I've been living in Wellington since 1993 and in that time have worked in IT delivery for private-sector, Government and start-up businesses in many different roles. Prior to moving to Wellington I worked in Television and video primarily as a video editor.
I've recently finished several years working with the Ministry of Social Development working on IT business projects, programmes and portfolios for a wide range of business services and applications. These have been mainly web applications and, for the last few years, mobile web.
I had a great time doing the Enspiral Dev Academy Bootcamp 'Hihi' at the end of 2018, being immersed in a world of Javascript and modern and robust web app development. My EDA Graduation Letter covers it quite well :-)
I'm now using that knowledge, skills and awareness to explore new online business ventures and opportunities.
My current focus is upgrading HireThings.com / .co.nz / com.au to a more appropriate style and focus required of a modern useful online service
As part of that journey, I've spent a couple of months working my way through a fantasic and challenging Rails 5 Professional Udemy course. It was very detailed, and the result of my efforts was this website, and this certificate ;-)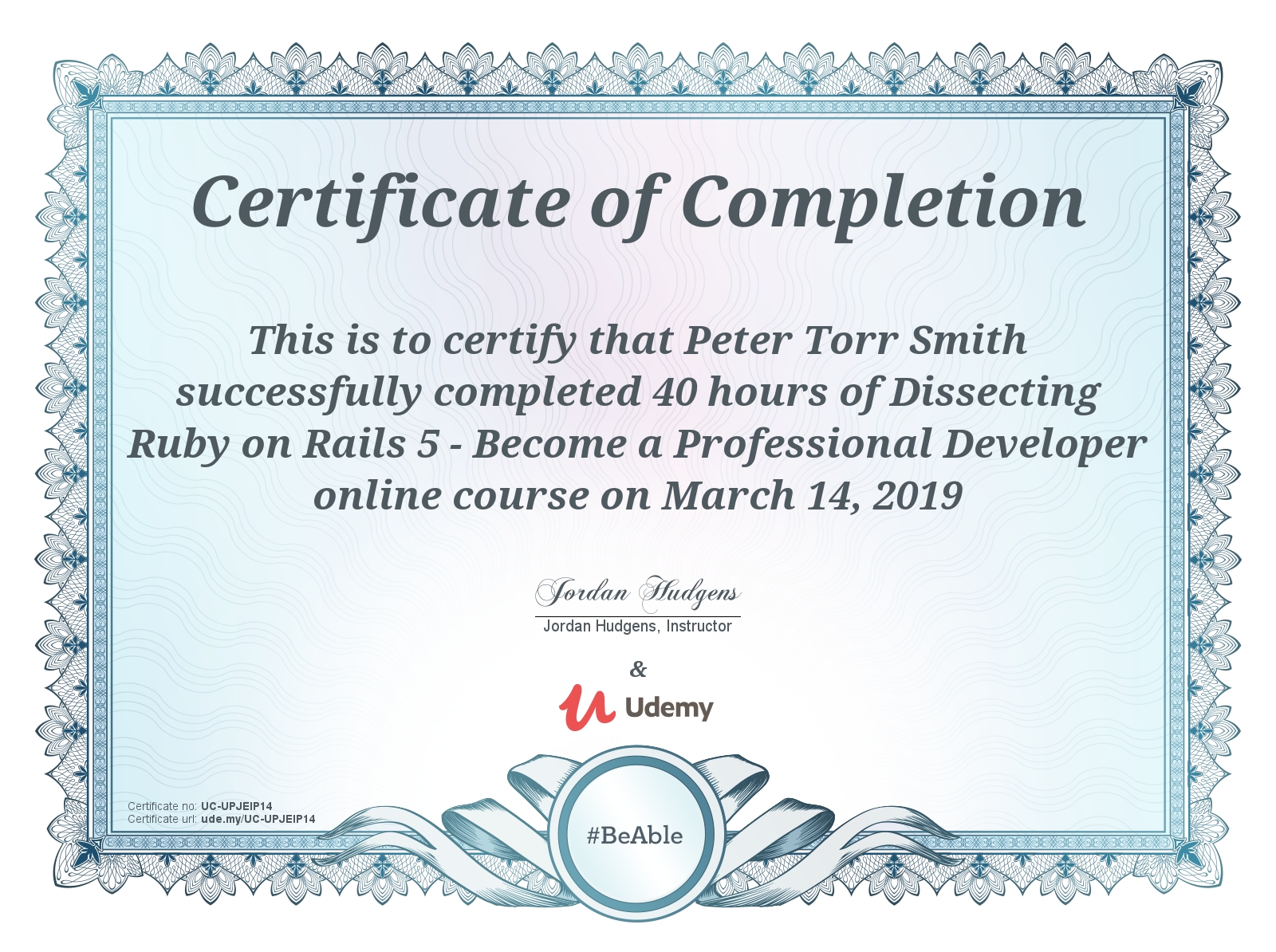 I love business, technology, governance, finance, food and fermentation, swimming, art, living in Aro Valley, my friends, and spending time with my partner on our various projects and adventures :-)
I enjoy getting in and helping make a business, team, technology and process work, and I like being part of that business. I'd love to explore business opportunities with you and see what great things we can make happen
Ministry of Social Development
Analyst, Developer, Project Manager, Agile manager, Mobile and User Experience capability manager
From: 2011. To: 2018.
Business analyst, project manger, programme manager and Web Team manager. UX and mobile capability manager. Agile tools capability manager.
Catalyst IT
Open Source developer, analyst and project manager
From: 2009. To: 2011.
Analyst, developer and project manager for a variety of open-source web based applications.
HireThings.com
Co-founder, developer, General Manager
From: 2006. To: 2009.
Co-founder, developer and CEO for online hire and rental marketplace startup www.hirethings.co.nz (and later www.hirethings.com.au)
Intergen
.Net Developer and Database Administrator
From: 2004. To: 2006.
Developer and DBA for a wide range of windows and web based applications
eCentric
Developer
From: 2000. To: 2002.
Developer for eCargo freight marketplace. Support developer for eCentric government clients.
Ministry of Agriculture and Forestry - IT
Analyst Developer
From: 1999. To: 2001.
Analyst developer for MAF IT systems. Year 2000 upgrades.
Ministry of Agriculture and Forestry - Operations
National IT Projects manager
From: 1995. To: 1998.
Coordinating IT projects and initiatives across the MAF Quality Management
Ministry of Agriculture and Fisheries (MAF Quality Management)
Assistant to the National Director, Meat Services
From: 1993. To: 1995.
Support national activities for food safety inspection and auditing services
Kids TV
TV editor
From: 1992. To: 1992.
Editor for Kids TV teen show Short Sportz, and current affairs shows InFocus with Stephanie Tauevehi, and Suzy Kato's "You and Me"
Production Post
Editor, Camera operator, co-founder
From: 1991. To: 1992.
18 month venture to establish video editing facility for new Panasonic M2 tape format.
TV3
Video editor for news, current affairs, sports, promotions
From: 1989. To: 1991.
Video Masters
Video Tape Operator and trainee Video Editor
From: 1989. To: 1989.
Prepping video editing facilities, source tapes, final masters and copies. Backup Steve the main editor. Camera, lighting and sound assist
Ruby on Rails Professional (2019)
Udemy & DevCamp
Completed 226 module hands-on course "Dissecting Ruby on Rails 5". The result was this website built from scratch with Rails 5, Javascript/JQuery, PostgreSQL, web-sockets, GIT and Heroku for hosting.
EDA Dev Bootcamp (2018)
Enspiral Dev Academy
Completion and graduation of Foundation and Bootcamp intensive mobile web development programme. Javascript backend (node.js) and front-end (React/Redux) focus.
Scaled Agile Framework (2017)
SAFe
Scaled Agile Framework practitioner exam and certification.
MSP - Managing Successful Programs (2015)
Axelos / CCLearning
Foundation and Practitioner/Professional exam and certification
Prince2 (2011)
Axelos / CCLearning
Projects In a Controlled Environment (Prince2) foundation and practitioner/professional exam and certification.
Certified Scrum Master (2010)
Scrum.org
Scrum master training and certification.
Microsoft Certified Professional DBA (2006)
Microsoft
SQL Server certified professional DBA exam and certification.
Post-graduate Diploma, Information Sciences (2001)
Massey University
6 years part-time extramural studies whilst working. Covered Management Information Systems, GIS, Object Oriented development and databases, scaling enterprise applications.
Bachelor of Commerce (1989)
Auckland University
Management, Marketing, Accounting, Finance, Business Computing, Economics, Statistics, Property.